- Modern TV Floor Stand Mount  
- Compatible with displays 37"-70" and up to 110lbs  
- Compatible with VESA Patterns between 200x200 to 600x400  
- Features a 15.7" x11.8" Built-In AV Shelf  
- Suited for both Flat and Curved LED, LCD, and Plasma displays  
- Integrated Cable Management System  
- Easy to install, all hardware included  
- Manufacturer's Limited Lifetime Warranty  
---
TV Stand Mount with Shelving
ATMSS6401-X2
---
The FT64 is a tilt TV wall mount that supports most 42"-80" displays weighing up to 165lbs. For precise compatibility, compare your display's VESA pattern to those shown here. If your display's VESA matches or falls within the range of those shown here, then your display is compatible.
Tilt mounts allow the user to gently adjust their display's vertical incline and are best in areas where multiple angles are needed or in a viewing area with a high mounting point. The FT64's slim depth places your display just 1.8" from the wall and features our unique TouchTilt technology. This technology provides a tool-less adjustment range between -10° and 0°, granting the perfect view.
The FT64 features a fully assembled open-back wall plate for easy cable management and threading. Our mounts are stress and pressure tested with 4 times their weight capacities and include a fully illustrated installation manual and multiple screw sizes for maximum compatibility.
Not the right fit? Take a look at the rest of our products, we guarantee that one of them will work for your lifestyle.
If you're looking for a great alternative to wall mounts then Promounts Floor TV Stand is the perfect mount for you. This mount fits most 37-70" TVs weighing up to 110lbs (50 kg) and comes with all easy to install hardware included.
It is compatible with VESA patterns between 200x200 and 600x400. The sleek and modern design it comes in also has a great flexible ±25° swivel feature that you can tilt to the desired viewing angle. Use the integrated cable management system built into this design to keep any cords organized and away from distracting your viewing experience.
It is made of solid metal construction material and includes a tempered glass shelf and base. The glass can be used to place your cable box, gaming system, and more. Lastly, the V-Bar Tech and Locking Mechanism ensures the best security for your TV and includes 3 adjustable heights (2.4in/6cm Height Gaps)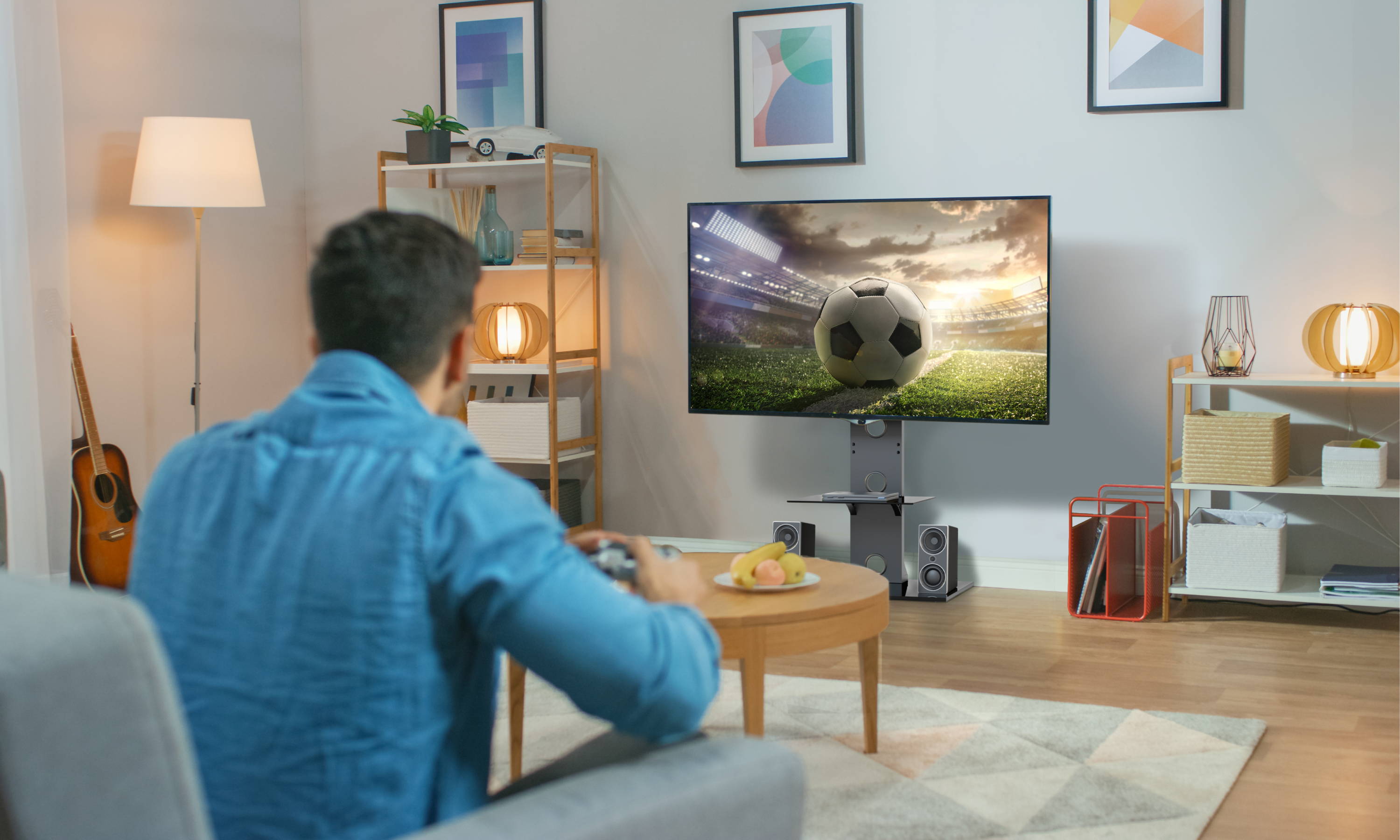 ---
Product Documents and Information